Home - New Orleans Walking Tours & Step-On Tour Guides
Signature Attractions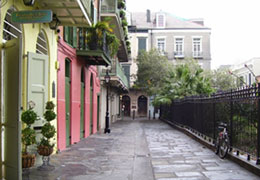 French Quarter Tours
Our French Quarter Walking Tour and our French Quarter Ghost Tour will introduce you to our first neighborhood, the Vieux Carre' or Old Square. After the Louisiana Purchase in 1803, the Americans named it the French Quarter.
The French Quarter is a dynamic mix of residential, commercial areas and tourist attractions. The housing styles are as varied as the inhabitants. Discover the street theatre, art, music and history that animate the French Quarter.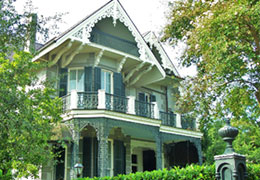 Garden District Tours
Try our Garden District Walking Tour to experience a tree lined neighborhood of lush gardens and antebellum mansions. This neighborhood was developed and settled by entrepreneurs from the colonies and the U.S. territories. Their stunning estates remain as monuments to industry, business smarts, and American capitalism.
Stroll the Garden District's picturesque streets and view some of the most varied architecture in the country. As an added bonus, this tour includes Lafayette Cemetery #1!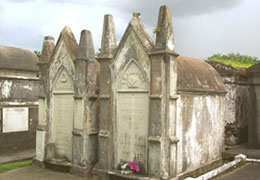 Cemetery Tours
If you're interested in cemeteries, our Lafayette Cemetery #1 Tour or the Historic Cemetery District Tour will capture your imagination as you traverse these cities of the dead.
New Orleans has over 30 cemeteries featuring both in ground burial and above ground family or society tombs. Though they share many characteristics, each one is as unique as the individuals buried there. Early cemeteries were established in or around residential neighborhoods. This experience will stay with you as long as your memory remains intact!
Schedule Your Tour Today!
Join us in the fun of exploring the characteristics of these three distinct tourist attractions. Each one is sure to enlighten and delight you.
Please take your time browsing the individual tour pages; you'll find a wealth of information about New Orleans accompanying each set of tour details.
We welcome volunteer and/or student groups with generous discounts. We also offer a discount for any group of ten or more traveling together.
If you have any questions, or if you're ready to reserve your tour, don't hestitate to contact us at 504-914-2039 or info@tour-new-orleans.com.
French Quarter and Garden District Tours
1.5 hours
$15 per person
Cemetery Tours
1 hour
See Tour Pages
Step-On Guide Bus Tours
Choose your number of hours
Hourly Rates