French Quarter Ghost Tour



Is New Orleans Haunted?
Our ghost tours are family friendly. We do not emphasize violence and cruelty.
Ghost tours are about events that are outside the normal, i.e., events that do not have a scientific explanation. One example is bilocation involving a living person. Bilocation describes instances in which a living person or other living entity appears to be in two locations at the same time. There are several cases of these phenomena in the history of the Catholic Church. The most recent instance is the claimed ability of Capuchin friar Padre Pio to be in two places simultaneously.
The crisis apparition is an occurrence that involves the appearance of a recently deceased person to a living person or persons. Crisis events occur at the time of death up until 48 hours after death.
A ghost is the spirit of someone who has died and has become earthbound.
If you have experienced any of these happenings, we are glad to have you share it with us on the tour.
In the 1800s, New Orleans was a place murders, assassinations, lynchings, duels, and general mayhem. It is the perfect place to experience the residual energies of earthbound entities. But, is New Orleans America's most haunted city? You decide.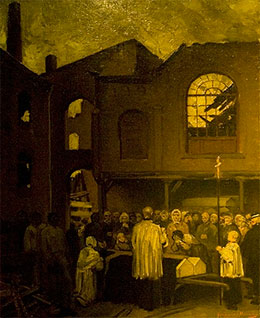 Tour Details
French Quarter Ghost tours are available late afternoons and evenings. Unwind after your conference, or a day of volunteer service with a French Quarter ghost tour. Include a Ghost tour for your bachelor or bachelorette party.
You must reserve in advance. If you have any questions, or if you're ready to reserve your tour, don't hestitate to contact us at 504-914-2039 or info@tour-new-orleans.com.
French Quarter Ghost Tour
1.5 hours
$15 per person
No nighttime tours of cemeteries